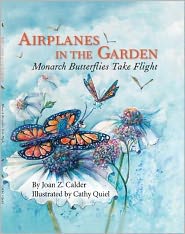 Click to learn more
The ingenious children's book, "With Airplanes in the Garden: Monarch Butterflies Take Flight" by Joan Calder is a delightful story with splendid illustrations, sure to delight and intrigue all young monarch lovers. It's
a story that entertains and educates children about the magic and mysterious world of monarch butterflies.
The discovery of a monarch butterfly egg on a milkweed plant teaches a young girl about metamorphosis. Then, "
With Airplanes in the Garden: Monarch Butterflies Take Flight" takes readers on a journey of discover the life of the Monarch, with vibrant watercolor not typically found in a children's book. Correct terminology explains metamorphosis (egg to caterpillar to chrysalis to butterfly) in a fun to read story. The book includes an informative section with migration maps, helpful tips to grow your own butterfly-friendly garden, and a butterfly song, which can be downloaded from the web. The book also contains web addresses to learn more about monarch butterflies.
A passion for Monarch butterflies led Joan Calder to write this nonfiction children's picture book to educate and excite children about the wonders of nature.
She grew up learning about gardening on a dairy farm in Cato, Wisconsin. After receiving a B.A. in Social Work from the University of Wisconsin, she held a variety of jobs, from recreation director for the U.S. Dept of the Army in Vietnam, to travel agent, to marketing assistant in a high tech company. In 1997 she returned to school to follow her passion; earning an A.S. degree in Ornamental Horticulture from Foothill College in Los Altos Hills, California.
Robert Morton, M.Ed., Ed.S believes urban sprawl can be offset by creating wildlife-friendly spaces in America's 25,000,000 lawns, one yard at a time! Click HERE to learn why. A portion of Ad sale revenues will be donated to
Monarch Watch
. Do you have a wildlife-friendly space? Please share it! Contact us on the secure
Bpath Mail Form.